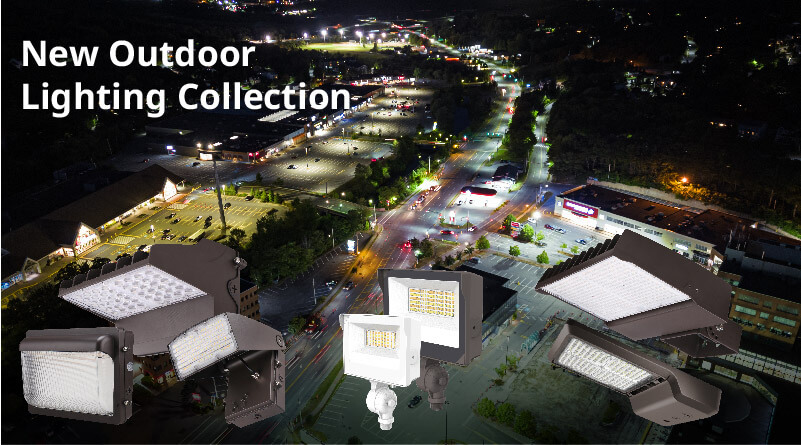 Safety and Security Light the Way with ETi's Newest Line of High-Performance Lighting Solutions
 Wheeling, IL – ETi Solid State Lighting Inc. (ETi), a leader in the LED lighting industry, is thrilled to announce its latest collection – a comprehensive line of Outdoor LED lighting products, meticulously crafted to enhance safety, security, and functionality in outdoor spaces.
The new portfolio showcases ETi's unwavering commitment to innovation and excellence in lighting solutions. Featuring eight (8) cutting-edge product lines, each engineered with precision and passion, this collection represents a diverse range of outdoor lighting solutions to meet the unique needs and preferences of Commercial, Industrial, and Residential customers.
The 8 new additions to ETi's Outdoor Lighting lineup include:
The New Outdoor Collection by ETi
Slim Canopy: The Slim Canopy luminaire offers a small footprint with impressive light coverage. The 3 

selectable wattages and color temperatures (CCTs), IP65 wet location rating, and choice of finish make this a practical and versatile outdoor lighting solution designed to provide ample illumination for canopies, 

walkways, gas stations, parking garages and more.

VersaArea LED Area Light: Engineered for performance and versatility, the VersaArea LED Area Light offers brilliant and uniform lighting with an integrated controls port, making it an ideal choice for illuminating parking lots, pathways, parks, and large outdoor areas.
VersaFloods Flood Lights: Delivering an impressive range of lighting options, the VersaFloods Flood Lights offer customizable wattages and color temperatures (CCT), and come with multiple mounting options included, providing unparalleled brightness, flexibility, and efficiency for landscape lighting and security applications.
VersaPak Adjustable Wall Pack: The VersaPak Adjustable Wall Pack offers a modern full cutoff design with 3 selectable wattages and color temperatures (CCT). Equipped with a Dusk-to-Dawn photocell and a tilting head that's adjustable between 0-90 degrees, VersaPak puts light where it's needed most, enhancing safety and visibility around building exteriors.
Full Cutoff Wall Pack: Designed with a focus on minimizing light pollution, the Full Cutoff Wall Pack provides downward-directed, glare-free illumination, making it ideal for outdoor spaces where dark-sky compliance is essential.
Modern Wall Pack: The Modern Wall Pack offers a seamless blend of form and function, combining contemporary aesthetics with a traditional footprint and powerful performance.
Security Wall Pack: The Security Wall Pack is designed for perimeter illumination and offers a Dusk-to-Dawn feature along with nine (9) CCT/lumen combinations for optimal flexibility, deterring potential threats and providing peace of mind for residential and commercial settings.
Traditional Wall Pack: Providing simplified flexibility with 4 selectable wattages and 3 selectable color temperatures (CCTs), the Traditional Wall Pack delivers a top-tier performance ideal for building-mounted doorways, pathway illumination, building sides and more.
"We are incredibly excited to introduce our new line of Outdoor Lighting products," said Nathan Mcleod, Vice President of Product and Marketing. "Each product in this portfolio has been designed to incorporate the latest technology in lumen, color, and control customization, allowing our luminaires to be configured and optimized for each application."
 "The new offerings enhance our existing portfolio, enabling us to provide customers with a complete and comprehensive range of versatile Outdoor lighting solutions," added Eva Chan, CEO of ETi Solid State Lighting.
All products in the Outdoor Lighting collection are engineered using premium-grade materials, ensuring exceptional durability and performance even in the most challenging weather conditions. As part of ETi's commitment to sustainability, these fixtures are engineered to be highly energy-efficient, minimizing their environmental footprint while maximizing their lighting capabilities.
The new Outdoor Lighting collection is now available and in stock via ETi Solid State Lighting commercial and retail channels. Learn more at www.etissl.com/outdoor-lighting/.
For further information on ETi Solid State Lighting, please visit www.etissl.com or contact:
ETi SSL Corporate Communications
Liana Bellina, Director of Marketing
847.821.6554
LianaB@etissl.com