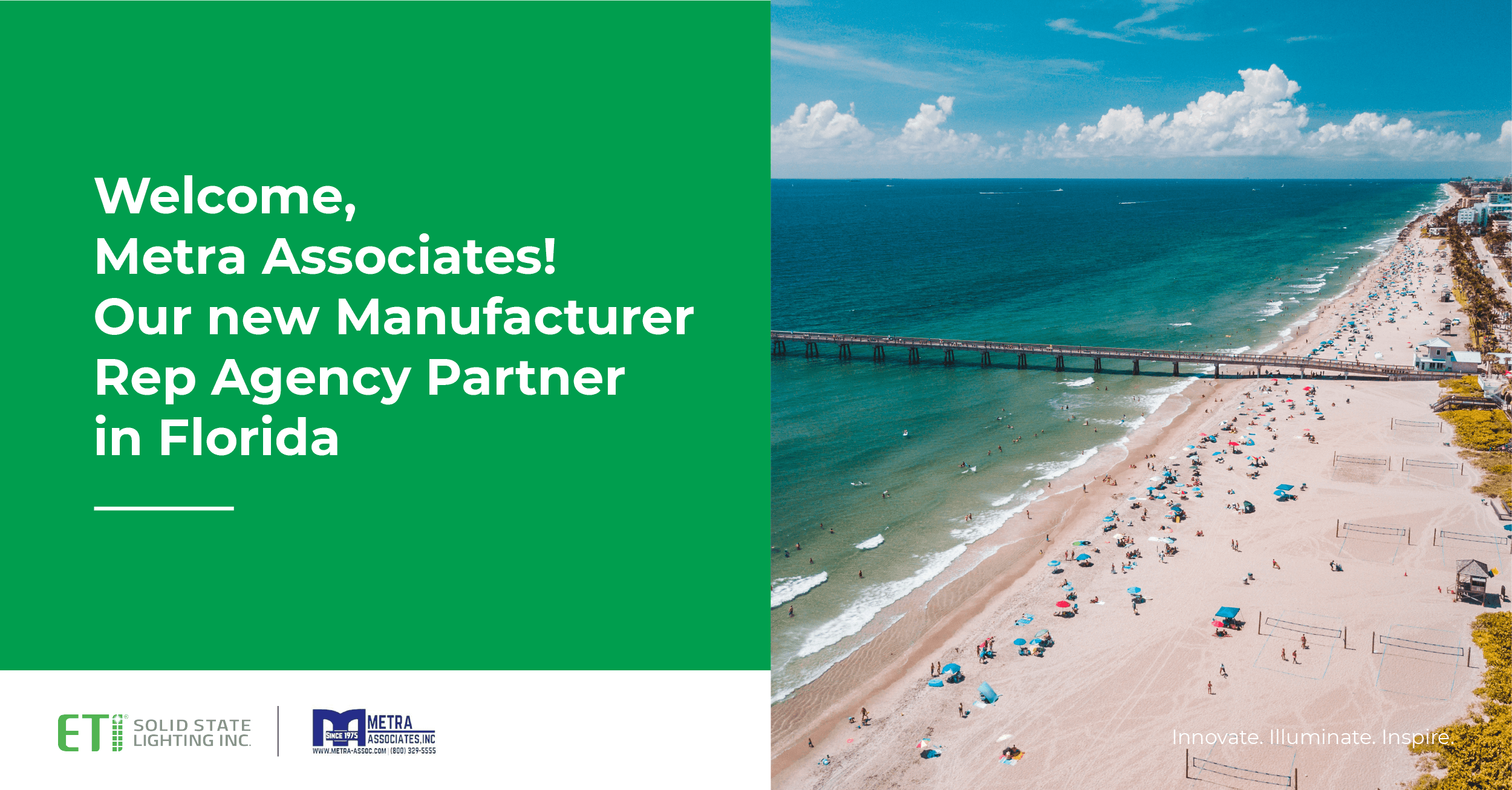 Florida's Premier Electrical Manufacturer Representative Fortifies ETi's Presence in Sunshine State

 Wheeling, IL – ETi Solid State Lighting Inc. (ETi), an industry-leading manufacturer of LED lighting systems and luminaires, is pleased to announce a strategic partnership with Metra Associates to serve as the exclusive representative of ETi's lighting portfolio across the state of Florida.
Operating since 1975, Metra Associates offers deep-rooted industry expertise and decades of experience as an elite electrical manufacturer representative. With a comprehensive understanding of the electrical market and a commitment to excellence, Metra Associates will play a pivotal role in expanding the presence of ETi Solid State Lighting throughout Florida.
"We are thrilled to team up with Metra Associates to bring our advanced lighting technologies to the vibrant state of Florida," said Dennis Picklesimer, Senior Vice President, C&I Sales, at ETi Solid State Lighting. "Their expertise, market insights, and dedication to delivering top-tier customer experiences align perfectly with our company values and vision."
ETi Solid State Lighting is renowned for its innovative collection of Indoor and Outdoor luminaires,
delivering high-performance, dependable, and energy-efficient fixtures to Commercial, Industrial, and
Residential customers. With this partnership, the company aims to further enhance its market reach in
Florida and empower customers with transformative lighting solutions that cater to their diverse needs.
"We are excited to represent ETi Solid State Lighting in Florida," stated Darryl Abrams, Principal Partner at Metra Associates. "ETi's commitment to quality and innovation resonates with our values, and we look forward to introducing their exceptional lighting products to the Florida market."
This collaboration between ETi Solid State Lighting and Metra Associates signifies a powerful synergy
between two industry leaders, poised to reshape the lighting landscape in Florida and deliver unmatched solutions to customers.
For more information about ETi Solid State Lighting, visit www.etissl.com. To learn about Metra Associates, visit www.metra-assoc.com.
For further information on ETi Solid State Lighting, please visit www.etissl.com or contact:
ETi SSL Corporate Communications
Liana Bellina, Director of Marketing
847.821.6554
LianaB@etissl.com